Details & Specifications

Here's how the 8AM protects against overheating
Current flows through your lead connection into the plate terminal, through the plate member, heater material, bimetal disc and mating contacts. The current completes its path by exiting through the can member and the integral can crimp terminal to your lead connection.
As the temperature rises, the heat is transferred to the bimetal disc. The disc then snaps open at the factory-calibrated opening temperature, thus breaking the current path.
The bimetal disc snaps closed when the reset temperature level is achieved.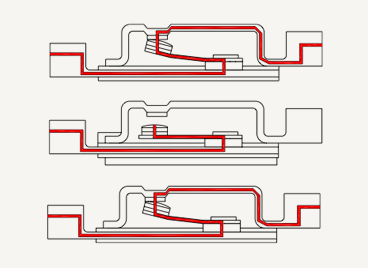 Leads
Thermtrol's state-of-the-art automated lead processing equipment can produce lead wires to meet customer application needs for overall length, wire type, wire size, terminated connection and stripped length requirements. Standard lead size is 16AWG. 14AWG-18AWG is also available.
Sleeving
In order to achieve optimum heat transfer from the protected medium or ambient to the thermostat, the 8AM has been designed with the case connected to the bimetallic disc. This feature makes it necessary to electrically insulate the thermostat from the mount- ing surface. Typically, this is accomplished with a Mylar sleeve marked with the part number. Custom markings and other sleeve materials can also be provided.
UL Approvals

Numbering Systems