The Klixon 7AM thermal protector prevents overheating in a variety of consumer, industrial and commercial products. It is a miniature, snap-acting, thermally operated device that is a proven performer in protection technology. It is the right choice for ap- plications where available space is at a premium. Thermtrol can provide these units with a variety of leads, terminations and insulating sleeves to meet specific require- ments, including nickel strip leads for NI-CAD battery packs.
Details & Specifications
Type A, Radial Lead Configurations

Type B, Axial Lead Configuration

Here's how the 7AM protects against overheating
Current flows through your lead connection into the can crimp terminal, through the can member, bimetal disc, and mating contacts. The current completes its path by exiting through the plate member and the integral plate crimp terminal to your lead connection.
As the temperature rises, the heat is transferred to the bimetal disc. The disc then snaps open at the factory-calibrated opening temperature, thus breaking the current path.
The bimetal disc snaps closed when the reset temperature level is achieved.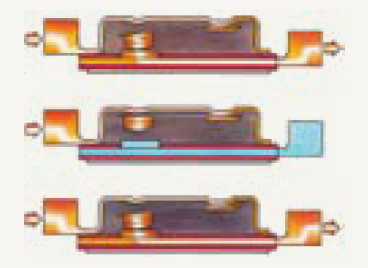 Bi-metal Options
7AM performance is dependent upon the applied current, as well as temperature. Different Bi-metals are incorporated to achieve various performance characteristics. In applications where temperature rise is less than 2°C per second, use low-resistance ratings. High-resistance Bi-Metal is recommended for applications with 2°-5°C per second rates of temperature rise. Contact Thermtrol for additional application consideration if the rate of temperature rise exceeds 5°C per second. Use these curves to determine which Bi-Metal may trip in the manner required for your application.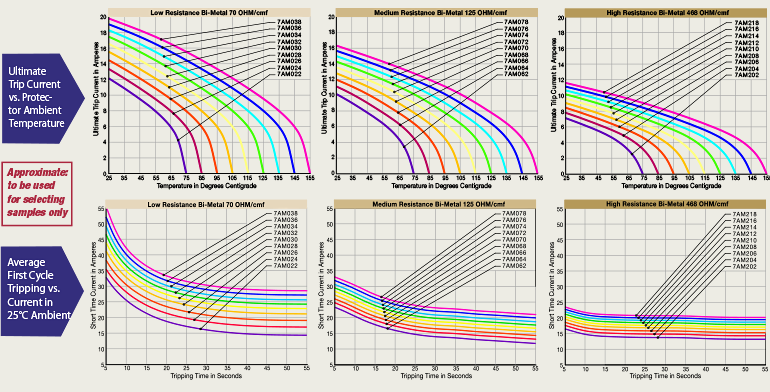 Leads
Thermtrol's state-of-the-art automated lead processing equipment can produce lead wires to meet customer application needs for overall length, wire type, wire size, terminated connection and stripped length requirements. Standard lead size is 18AWG. 20AWG-14AWG is also available.
Sleeving
In order to achieve optimum heat transfer from the protected medium or ambient to the thermostat, the 7AM has been designed with the case connected to the bimetallic disc. This feature makes it necessary to electrically insulate the 7AM from the mounting surface. Typically, this is accomplished with a Mylar sleeve marked with the part number. Custom markings and other sleeve materials can also be provided.

Agency Approvals

Contact Ratings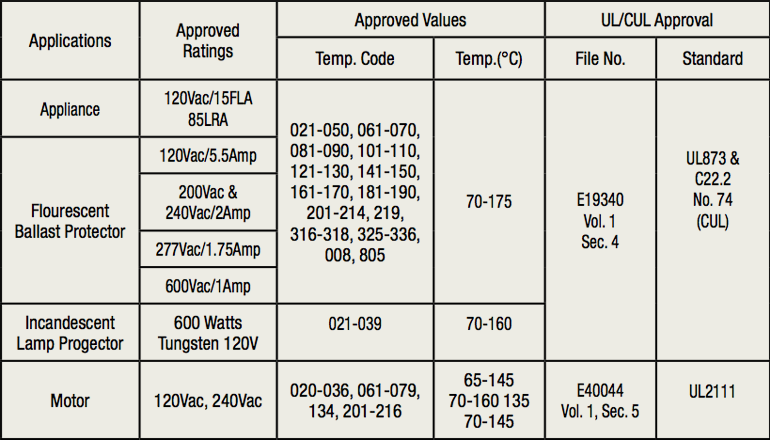 Numbering System